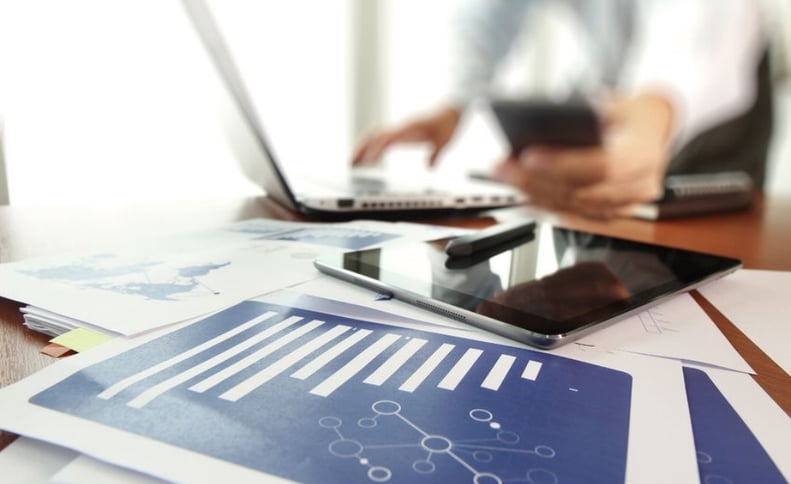 You understand the need for change management. In fact, you might be at the stage where you have convinced the board and some of your key peers that it is an important element of introducing any organization change – strategy changes, reorganization or digital transformation initiative.
But do you understand how mature your organization is? Is your change management strategy even targeting the right things? And what are the next steps to grow your change management capability?
At Changefirst we have two simple but highly effective tools to help with a change management maturity assessment: our Change Management Maturity Model and our Initiative Legacy Assessment (ILA). We explore these in a bit more detail in this post.
How and when should you review your change management maturity?
It is always good practice to undertake a quick review before undertaking any new change implementation intiative, and our ILA is a quick and effective way to do this.
However, when you are looking at a broader change picture, and a little bit more long term, then the ILA coupled with the Change Management Maturity Model will provide you with an excellent basis for understanding the next steps on your journey to developing a mature change management capability.
In terms of focus, a review can be done project by project or enterprise-wide - and as you become more mature, looking at your change management maturity across your organization will come naturally.
Sometimes, while you are still in the early stages of building your change capability, an enterprise-wide review might be a struggle (for political or resource reasons). However, if it can be achieved, an enterprise-wide view will:
provide you with a good basis to understand the differing maturities across the organization
help identify how to share best practices across teams or functions
assist with aligning on a common model, practices and language
A look at the Initiative Legacy Assessment (ILA)
The ILA is a change management assessment that is used to understand the historical impact of change implementation. It is a structured approach to understand the current change environment and change readiness within your organization.
Learning from the past allows you to pinpoint potential risk areas for the upcoming change and avoid repeating past mistakes: "if we do what we've always done, we get the results we've always gotten" - true in all organizations.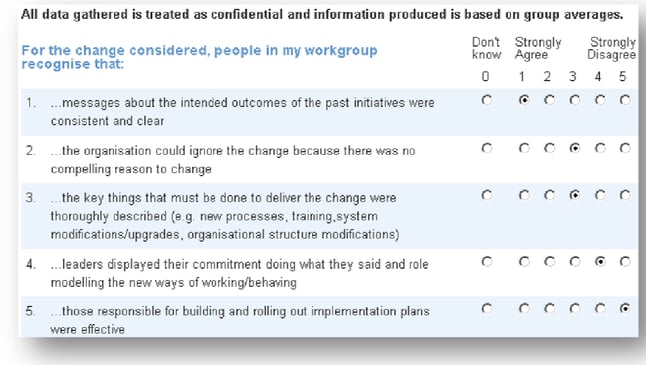 Understanding the current state of the organization and how change is seen gives you useful insights into the maturity of change management capability in your organization. For example:
Is change seen as positive element of business, or negative and a drain on your resources?
Is change managed well, with a structured and transparent approach, or is it haphazard and left to chance?
Does your organization embrace change willingly or actively resist new way of working?
(We talk more about how to use the ILA to assess your organizational change capability here.)
Using the Change Management Maturity Model
The Change Management Maturity Model is like many other maturity model: it gives a structured approach for assessing your maturity and guidance on taking steps to increase that maturity. In this case, the maturity of your change management capability.
| | | |
| --- | --- | --- |
| Level | Stage | Description |
| 4 | Institutional | Executive sponsors manage the overall change capacity of the organisation. |
| 3 | Organizational | Change management has been tailored to align to other organisational processes. It is applied consistently on all major projects. |
| 2 | Tactical | Change management is applied inconsistently across projects. |
| 1 | Rudimentary | Project implementation contains little change management beyond basic communications and training support. |
| 0 | Technical | Change is seen as a technical process where people will comply with the requirements of the change. |
(Changefirst's Change Management Maturity Model)
As you would expect, each level has its own set of standards and requirements which must be achieved to master that stage of maturity.
We speak a lot about Enterprise Change Management (ECM), which is achieved at level 3 and 4 of the maturity model. But no matter your current maturity, or your current level of ambition, using the maturity model will provide you useful insights about your current change management state: helping to pin point areas for improvement, areas of best practice, and currently alignment across different organization areas.
Generally the outcome of a maturity review results in next steps and often a roadmap (or an update of your current roadmap) to progress towards a more effective change management capability.
Assessing your change management maturity needn't been painful with Roadmap Pro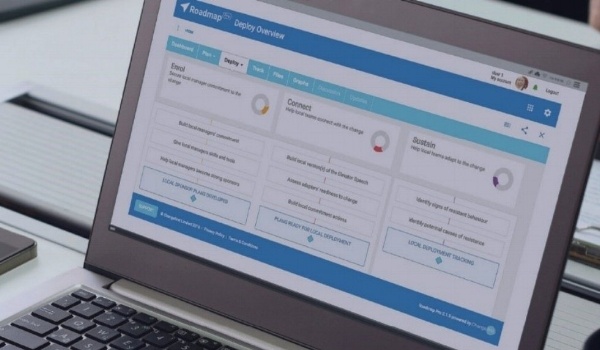 Whether at individual project level, or enterprise-wide, taking a snap shot of your change management maturity levels can be easy and relatively painless.
We have helped many clients do the same, using these and other tools from Roadmap Pro - our innovative new SaaS based change management platform. Interested to find out how we can help? Contact us for a discussion on the best approach for your organization.