Learn to make the most out of your change management assessment tools by analyzing the data. This week we carry on our discussion about using change assessment tools to quickly analyze data from across the organization to help you understand and prepare for the people related risks to your change projects.
1. Use graphs to analyze and communicate your data
Now that you have gathered data, it is time to make some sense out of it. With quantitative data, graphs are an excellent way to aid your analysis and help communicate the results quickly and clearly.
Here are two samples of graphs generated from the Change Impact Assessment tool. The tool allows you to quickly identify which are the high-risk dimensions and which are the low-risk dimensions. By specificially identifying the high-risk dimensions allows you to better plan where you should focus your change management efforts.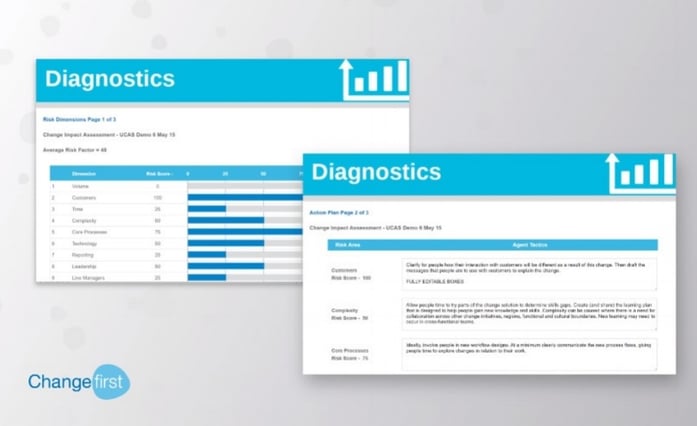 (Diagnostics from the Change Impact Assessment tool - Diagram 1)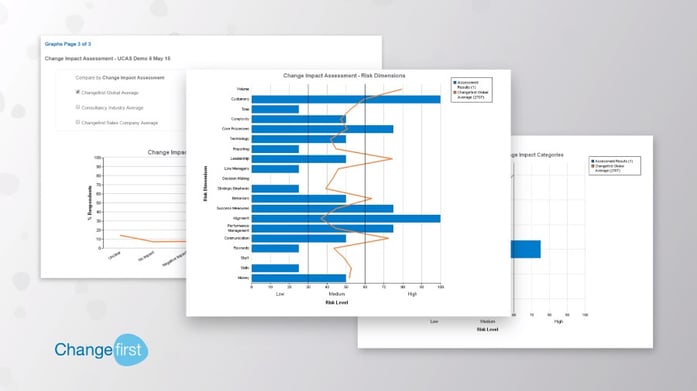 (Risk Dimensions from the Change Impact Assessment tool - Diagram 2)
Any dimension which has scored over 50 is considered high, and we always recommend that you identify specific actions against each high-risk dimension. When you plan for and proactively manage your people risks, you increase your ability to drive through successful change.
When analyzing your assessment results, it is useful to keep these questions in mind:
What are the key points being made – i.e. high or low risks dimensions?
What are the relationships, challenges or surprises in the data?
What are the important conclusions you are drawing from the data?
What actions need to be taken based on those conclusions and specific risk dimensions?
2. Use groups or workshops to increase the quality of analysis
A useful approach to analyzing data is to have more than one person viewing and thinking about what the data is telling you. You may want to ask your project team to view the assessment results and come back with their thoughts and understanding of the data.
Every person on your team will have different backgrounds and experiences; which means that they may each interpret the data slightly differently. Understanding and discussing various viewpoints will give the whole team more information to work with. Discussion within the team also helps identify where the results aren't clear, or seem open to interpretation. Use this knowledge to identify topics where you could have difficulties communicating the results to your sponsors or back to the assessment participants.
Understanding the possible reasons behind the results is just as important as identifying the top risks. Gaining insight into the reasons why an area has a high-risk score will allow you to identify the appropriate actions to take to either reduce or to remove the risk during your change project.
Use focus groups or workshops to facilitate a deep-dive into the results with some of the participants. Gathering qualitative data as well as quantitative results will put you in an excellent position to really understand the risks to your change project.
And, to clearly communicate with your sponsor, change leaders and others.
3. Think carefully about how you communicate the results
Sponsors may be surprised and sceptical of the assessment results. A visual mix of graphs, quotes and conclusions can be influential, but you may want to do some stakeholder management in advance to discuss any surprises on an individual basis.
Consider how you want to communicate back to the assessment participants. Ideally you will have communicated up front how, and when, you will provide them feedback. After analyzing the data, you will have a much better idea of exactly what you will be communicating.
Remember that just communicating results, without identifying what actions you plan to take to overcome the risks and barriers that people have identified, could harm your change project.
Watch our video to learn more about planning and running the Change Impact Assessment.
Or if you would like to see one of our tools in action you can try the Communications Effectiveness Tool below.