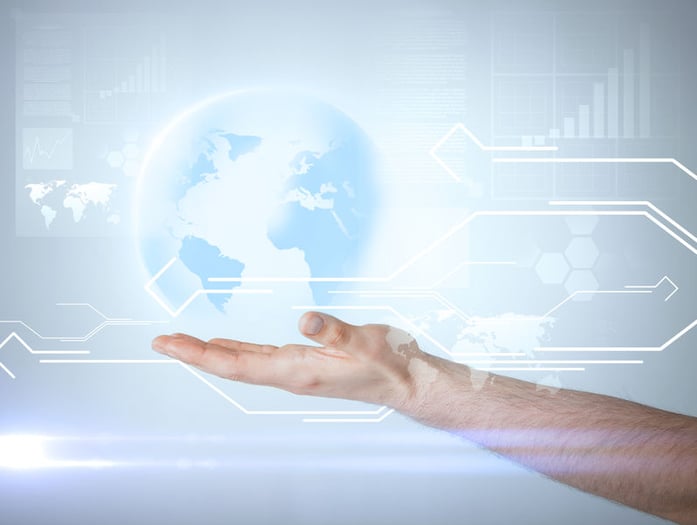 Digital is impacting companies across the globe as they face increasing pressure to change to meet industry and consumer demands. The imperative for rapid change is countered by the need to continue to focus on reducing costs. Change leaders need to adapt the way they approach change management in order to support their organization.
There was recently a great article by McKinsey, The next-generation operating model for the digital world, which spoke about how the organizational operating model needs to adapt to support digitization, the need to build value, provide exceptional customer experiences, all the while focusing on lowering costs.
What struck a chord with us from this article was, not only do companies need to be more agile in their approach to delivering changes, but that organizational improvement projects needed to be thought and planned holistically across the organization. There is a need to move away from improvements in silos.
This has a profound effect on the way change leaders should be thinking about enabling change in their organizations.
Moving your change management out of the silos
If the trend continues, as we suspect it will, to think and work holistically across the "new" organization then change management capabilities need to take an end-to-end view of how they enable change in the organization.
Many organizations that we work with are still quite disparate in their change management approach. Change management capabilities, methods and processes are embedded in functions or projects and rarely work together across the organization.
The exception tends to be for large strategic business transformations; but even then, while change management may be considered holistically at the top level, actions and accountability for change is often cascaded down into change management silos.
Integrated change programs will become more and more important
For change leaders this means that change management capabilities need to run across functions, not within functional or program silos. Linking to our Change Management Maturity Model, organizations need to start thinking and working at the Enterprise Change Management (ECM) levels where change is applied consistently, with an organizational view of the impact of change.

Change needs to shift from uncoordinated change efforts led by silo-ed experts to an integrated change program organized around the roles of the main change leaders. Thinking of change with an end-end view across the whole value chain, combined with internal agility and agile project methodology, really does push the imperative that change is everyone's business.
Change leadership roles need to adapt
Change sponsors: the network of change sponsors across the organization will become stronger and more aligned. While accountability for change may rest with different sponsors, each needs to be aware of concurrent changes occurring in the organization and ensure that the end-to-end view of change is in alignment.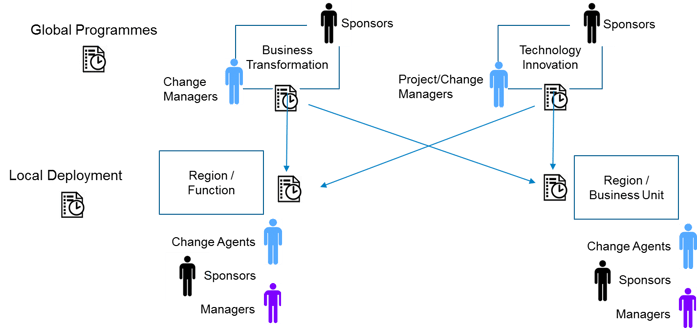 Change Agents: With the increase of agile projects then the role of the change agent will shift as they find themselves embedded in project teams rather than being a supporting function. With increased access to users and increased ability to influence project outcomes, change agents will need to make the best use of digital tools to increase their efficiency during rapid iterations and deployments.
Project Managers: Change management will now be at the forefront of planning of all projects. From ensuring that change management experts are available to support their projects throughout the lifecycle (not just at the end) and planning for ongoing cross-organizational alignment and engagement.
Line managers: It will become even more important for line managers to be aware of the impact of changes, not just on their team but across other teams in the organization. Being able to paint the 'big picture' for their teams, and to trigger the thought process around the end-to-end implications of changes, is an important component of enabling the whole organization to start thinking holistically about change.
Adapting your change management framework
Along with changes to roles and the skills needed to implement change in an agile organization, change leaders need to ensure that the change management methodology also adapts to the new change management approach.
There is a need to shift from using individual methods, tools and processes inside silos to consistent methods across projects that allow for better comparison, tracking and measurement.
The changing nature of business, combined with the dual impact of digitization and agility, will impact your approach to change management in your organization. If it hasn't already. Thinking and practising change management at the enterprise level, with an end-to-end view of the combined impacts of concurrent change projects, together with an adaptive, digital platform to enable your change management capability, will provide the necessary maturity in your change management capability.
Is "Change Agility" key to your organization?
If it is - then you might be interested in Roadmap Pro, our revolutionary and highly scalable change management platform. Available 24/7, it enables your teams and organization to quickly and easily deploy, track and monitor your change implementation plans - in a highly agile way.

Simply visit our website here for more information.