The balance of internal and external resources
By David Miller , CEO, Changefirst

My last blog - Is your organization struggling to cope with change? – focused on the need to build effective internal change management capabilities. Just after I wrote this I became aware of an excellent ATD (Association for Talent Development) report entitled "Change Agents – the role of organizational learning in change management". ATD, formerly ASTD, have identified a number of key success factors where learning is effective in building capabilities for change. The report highlighted some key findings:
Organizations are going through an increasing number of major changes every year.
6 out of 10 survey respondents said that their organizsation faced 3 or more major changes per year, 1 in 4 said the number of changes was double that and 48% of respondents characterised that the pace of change is getting faster and increasingly unpredictable. Certainly, for large organizations you could probably double that number right now but for small to medium sized enterprises its probably right.

Only 17% of respondents rated their organizations as highly effective at managing change.
We are used to seeing numbers around the 20% mark, so this figure is more or less in line with what we've seen from other surveys over the years. Of course this number is extremely dependent on who's doing the marking! Executives usually score their organizations higher than middle managers. This is not a cynical point. It may simply be that executives view the success factors differently to other people in the organization.

Only 30% of organizations had designated change management teams.
Interestingly, our data shows that engaging and empowering internal teams is the best and most cost-effective way to successfully implement major change (2011 Changefirst survey of over 2000 change leaders). It seems clear to us that full-time change teams are probably going to be more successful than their part-time, isolated colleagues!

So as you can see, from our perspective none of this was particularly new.
It fits extremely well with our own experience in the field and surveys we have previously conducted. You always hear what you want to!

What I did find extremely enlightening was the data the report had on the blend of internal and external resources that organizations use. What seems clear is that organizations who are highly effective at managing change use external resources more than their comparator group who only use external resources for certain key tasks. The chart below shows this very clearly.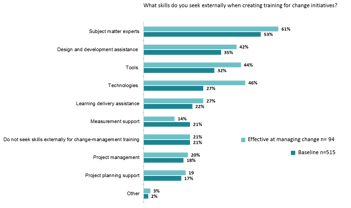 This survey shows that the more effective organizations are more likely to use external SMEs, design assistance, tools and technology than their less successful colleagues. It's really good to see this data as it aligns with our research from the past 20 years.
That's not to say you should abandon all internal resources.
Our observation is that organizations who are over-dependent on external resources never seem to learn how to implement change effectively. They seem to shift from one consulting firm to the next; they try different change processes without ever applying any of them with much depth which accounts for a large number of change failures.
Free Whitepaper: A C-Suite Guide to Building Internal Change Management Capabilities
On the other hand organizations that never use external resources also have their problems. It seems to us they spend a lot of time building methodologies, training programs and processes and in some cases they utilise these effectively but the majority burn through a lot of money, resources and time re-inventing the wheel without ever applying these products to major change initiatives.
The key to success therefore seems to be getting this blend of external and internal resources aligned. Not ground-breaking advice but as the evidence suggests it is something organizations clearly need to be mindful of. At a minimum when you start working with an external change provider it might prompt four planning questions :
Do they have the change expertise to help us be more effective implementing change?
What experience do they have of designing and developing programs or interventions?
Can we utilise their change management tool set?
Do they have any proven technology platforms or resources – such as e-learning – that could help us scale very quickly?
---
Changefirst have been supporting organizations with building change management capabilities for the past 20 years. To find out more about how Changefirst can help your organization, visit our website.