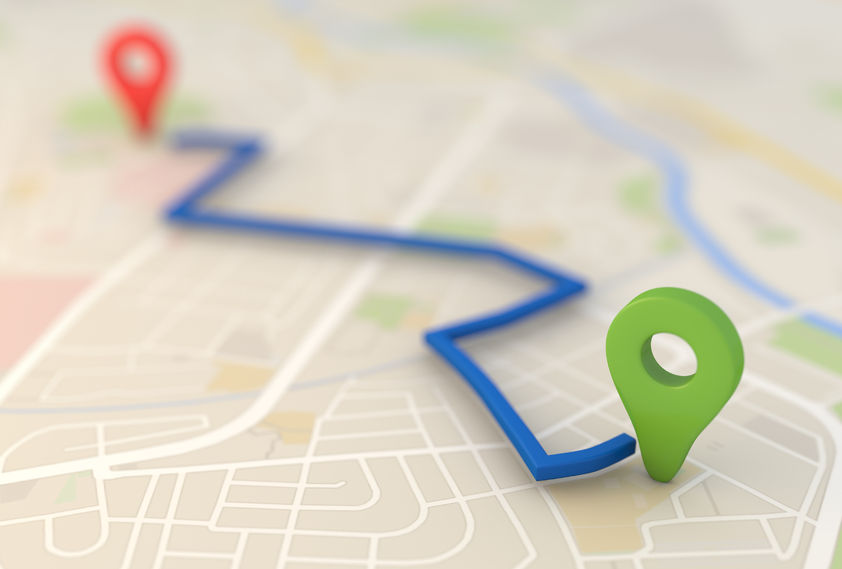 Once you have developed your Enterprise Change Management (ECM) roadmap, identifying the steps on your journey to a more mature organizational change capability, then comes deployment. Developing and building your capability must be approach as a change project; and, our experience, and supporting research, shows that effective learning can increase the speed and quality of an organizations' capability building journey.
Your change capability roadmap needs to be approached as a change program
As we mentioned last week, developing and maturing your organizational change capability, no matter at what level of maturity your starting point is, needs to be treated as a change project. As well as identifying the methodology, tools and processes that need to be put into place, you also need to identify the learning needs of the organization.
By changing your organization's approach to change management you are asking the individuals within your organization to change too: new behaviors during change, new tools, new process and new language when talking about change.
When embarking on your change management maturity roadmap the following elements should be considered, and planned for:
Sponsorship of the ECM project at the right level in the organization, supported by an effective leadership network to drive through this change, and subsequent change projects
Standard project elements (e.g. project charter, project plans, timeframe and methods to measure the expected benefits)
Design and implement a change management framework (tools, processes, templates, language) that will support consistency of application across the organization and which can be used for different project types
Design & implement a cross-organizational platform to store and make available change management artefacts and resources
Identify pilot projects for the initial rollout
Design and deploy an effective learning strategy that addresses the new behaviors, language, tools and applications required to support a mature change management capability.
While the first 5 points above are fairly straight forward, the final point, on learning, is one which we find organizations struggle with.
Identifying the right approach for effective learning
Learning covers all forms of development, education and change management training required to achieve your change management capability goals.
We use the term effective learning deliberately. Studies have shown that a significant amount of learning activities do not achieve the desired outcomes (refer to chapter 9 of Enterprise Change Management for more detail). When planning your learning strategy incorporate elements that will provide you with the best outcomes for your change capability.
The approach that we have found works best, and which delivers measurable benefits, is a combination of these 5 elements:
Make sure people in the organization have the right skills and tools:
Each role in the organization has different needs when considering your change management capability. Identify needs on a role by role basis and design your learning strategy to meet these varying needs.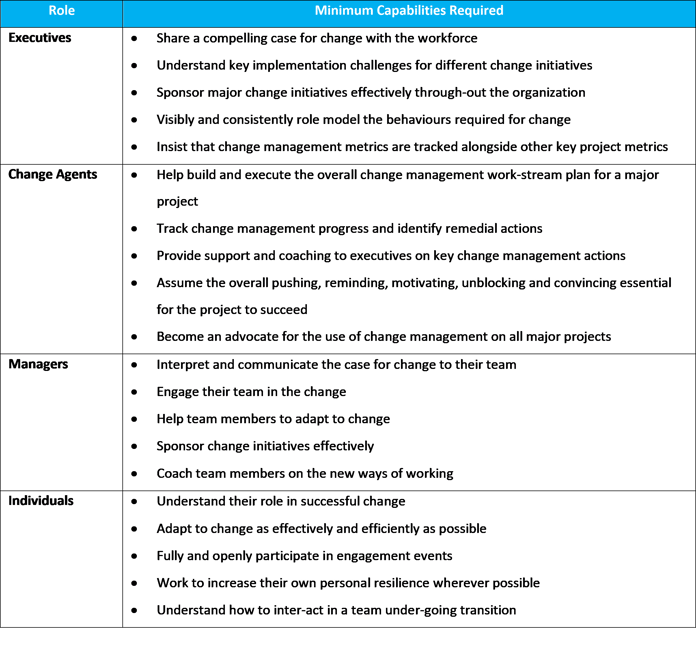 Encourage learning by doing rather than through passive learning:
When you bring people to learning events you need to get them to work on real problems or opportunities that are present in the workplace. It is extremely important when running change management workshops that the participants work in small groups on actual change projects in the organization; this is where pilot projects are extremely useful.
Deliver learning 'just in time' that gives people the skills and tools when they need them and will use them:
Participants lose new skills and knowledge within about 90 days if they don't use what was learnt. Schedule your learning events in line with new tools and applications being rolled out, and pilot projects being run.
Link learning to application to ensure that what is taught is utilized:
Tailored rather than generic change management learning events will ensure that what is learnt is relevant, consistent with your ECM approach, and can be easily applied in a real-world setting.
Measure the effectiveness of learning:
Just as you should for any type of project, identify measurable objectives upfront which can then be tracked through subsequent change projects. Measuring the improvement of the organization's ability to deliver successful change projects in a consistent manner provides feedback on the success of your ECM rollout and learning strategy.
And finally, consider the use of digital and online learning when you are planning your learning strategy.
Developing a mature change management capability provides significant benefits to an organization. Taking the time to plan and deploy your enterprise change management strategy will ensure that your organization has the skills needed to deliver successful change.
Find out more about effective learning in Chapter 9 of our book Enterprise Change Management - you can downlaod the first chapter for free below.