The world has changed. Your consulting approach needs to respond

Clients are experiencing an increased level of change and accelerated digital transformation

You may need a digital transformation of your own to keep pace and stay agile

How we can help you. The game-changing impact of digital
What we initially thought back in March was a short-term halt to 'business as usual' has turned into a longer-term major disruption of the way we do business – and go about our lives in general. It is also looking likely to be 2021 before businesses get back to 'normal', Or at least some form of a 'new normal'.
As major economies enter recession as the impact of the pandemic bites, customers are likely to be very wary of spending money. Some organizations will also be re-starting themselves and supply chains will be disrupted.
And, employees are showing signs of having very different expectations of how they want to work – in fact according to research cited by the World Economic forum 98% of people would like the option to work remotely for the rest of their careers . Home working is already being greatly more utilized, as employees become wary of commuting in packed trains and busy roads and may well feel very uncomfortable attending meetings in enclosed spaces.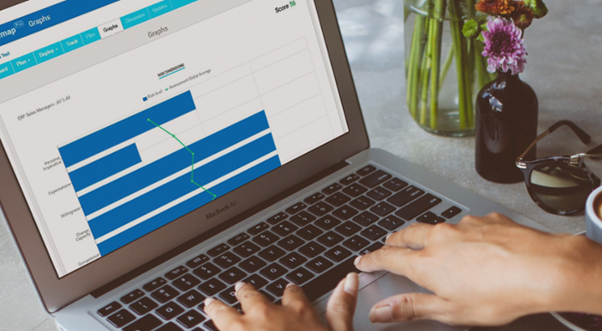 How you need to respond
There are a myriad of challenges for both your clients and you as consultants as you continue to respond to this new environment.
For clients, the type of change challenges they are facing will evolve over the next few months and into 2021.
In the short-term, many of your clients have been re-actively responding to Covid-19. For example, Coca-Cola who redeployed resources to make face shields for those on the COVID-19 frontline
Medium-term organizations the focus is shifting to how clients can adapt in a proactive way to the new environment. And with increased demands around - for example - effective remote working, many businesses are accelerating their transformation to digital (interestingly according to McKinsey, pre COVID-19 92% of businesses surveyed thought their business models would need to change given digitization. What COVID has done is to significantly accelerate the process for many organizations.)
The combined effect of all of this will be to generate a high volume of change that will need to be implemented effectively for organizations to survive and prosper. If you add these two types of changes to all the personal changes that leaders and their teams are undergoing it becomes very clear that strong Change Management skills are critical for success. More so, than ever before.
And not only do you need to help your clients meet these challenges, the changing situation is going to present a few challenges of its own for you including:
A high level of agility will be essential as many clients postpone engagements, re-think them or start new initiatives that reflect their current problems and opportunities
Your own consulting organizations will be changing as well. Consulting firm economics will change as you need to find new ways to deliver work virtually and rates will undoubtedly come under pressure as well – which means digital tools and platforms become critical.
The global players who have already invested in digital will be deploying these capabilities to win work and retain clients. For the players who have not been able to invest it will be critical to partner with niche providers to provide a similar digital offering.
It's almost certain that most consulting firms need to undertake their own digital transformation. Clients are increasingly expecting it and new business models will accelerate this drive – and research by BDO indicates that professional services firms are investing heavily in automation to meet the challenge, with firms dedicating 12% of their budgets to it. 3% higher than the national sectoral average) .
How we can help you right now
Given the scenario we outlined delivering change effectively through engaging people is more important than ever. The consulting firms that help their clients to be the most effective at implementing change will be the ones who have the most competitive advantage.
Enabling virtual Change Management with Roadmap Pro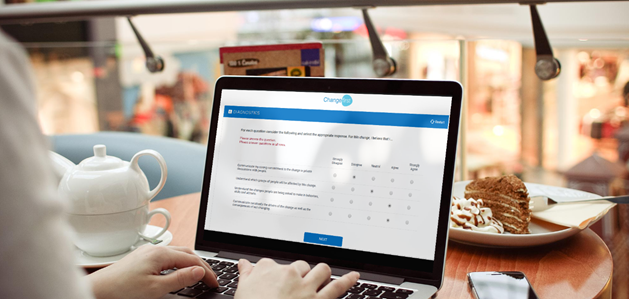 As your teams attempt to adjust to the "new normal" that has been created digital is going to be the key differentiator for successful Change Management. It has an even more central role to play in the effective planning, collaboration and tracking of major change programs.
Our digital change management platform Roadmap Pro does just that by enabling your consultants to "get out" virtually across client organizations to influence change progress – at time when getting boots on the ground simply isn't an option. With Roadmap Pro:
Virtual collaboration and sharing with your consulting teams and clients is made easier, simpler and more productive. Digital collaboration and reporting remove geographical constraints and your teams to work together.
Consultants can quickly collect data about what is happening 'on the ground'. Data on change program performance is collected and analyzed remotely utilizing a set of proven diagnostics (with multiple language capabilities, benchmarks and segmentation automated). This allows you to identify change risks and create mitigation actions with your clients in real-time.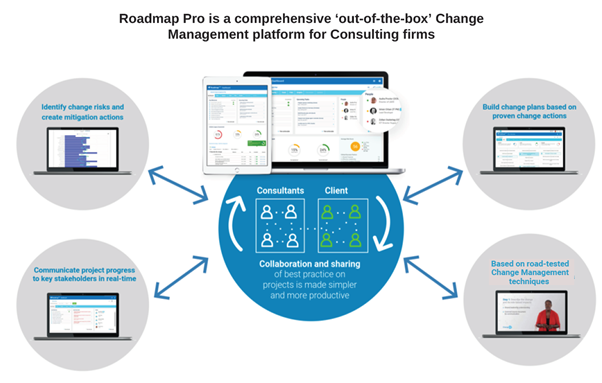 Detailed change management plans are ready to use 'out-of-the-box', quick and easy to edit and develop to enhance your consulting team's productivity and credibility.
Roadmap Pro's dashboard functionality gives you a powerful and sophisticated tool to use when meeting with senior client executives and steering teams.
When your consultants and client teams cannot physically attend workshops and meetings Roadmap Pro provides comprehensive modules that let your people learn road-tested change management skills and techniques.
Roadmap Pro also gives you additional opportunities to deepen your relationship with your clients. It can be a vehicle to identify new consulting opportunities or to broaden your relationship by implementing it as their default implementation platform.
Demonstrate to clients that you really get digital and you are using it effectively in the way you deliver work. Our platform can add credibility because we have been working on digital solutions for over a decade now.
Talk to us about a KickStart Package now
If you need to be delivering change virtually for clients and have a specific project to deliver - talk to us about getting started quickly, easily and with minimum risk with our Roadmap Pro KickStart package that includes:
an initial team-based, project licenceapproach
rapid on-boarding and trainingto enable your teams to be effective immediately
comprehensive supportfor your Consulting team
Simply schedule a no obligation demo to learn more.