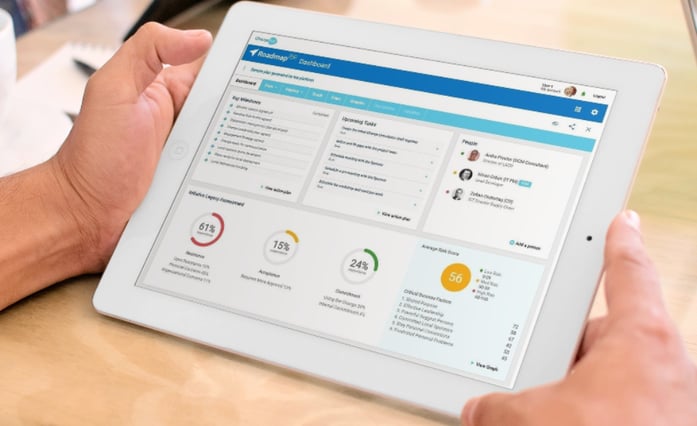 Changefirst is delighted to announce the launch of Roadmap Pro – our revolutionary change management SaaS platform for project teams, enterprises and consulting firms. It's a powerful business and productivity tool for change implementation that provides the step-by-step process, tools, data and learning to deliver your change projects successfully.
Why Roadmap Pro?
We have been working with organizations for over 20 years with a clear goal - to enable organizations to deliver on their change agenda by focussing on people. In that time, we have worked with over 300 organizations in over 45 countries, training more than 30,000 people to use our tools and processes – much of it face-to-face around the world.
In the last 5 years however, the accelerating pace of change and wholesale disruption of business models has seen client requirements changing significantly. More and more we are being tasked to deliver a solution that is cost effective, scalable and available 24/7. To meet those needs we have developed a completely new digital platform for organizations that must deliver their change projects quickly, comprehensively and cost-effectively.
It provides organizations with the enterprise level people skills and tools to successfully deliver change – all in one single application.
We call it Roadmap Pro.
How does it work?
Roadmap Pro is a dashboard driven business transformation toolkit that enables you to take a "GPS" like approach creating, sharing and collaborating on your change plans.
Crucially it enables you to take a standardised approach that ensures continuity and success – and is quick for your teams to adopt, learn and rollout across your organization.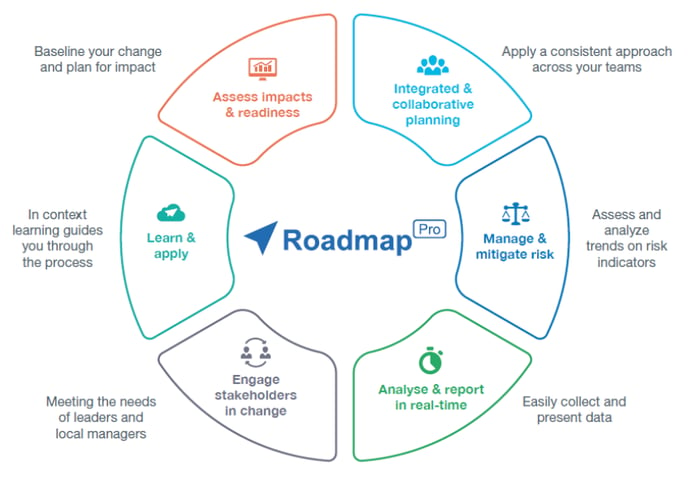 David Miller CEO at Changefirst explains "We are finding more and more that our clients are facing a raft of change implementation challenges and they need a way to address these challenges quickly and consistently. Roadmap Pro enables them to do it quickly and easily – we have can have them up and running in a matter of days because everything is available online".
Over the next few weeks in this blog series we will be exploring the key features of Roadmap Pro including:
Step-by-step planner that:

guides you from the elevator speech, through stakeholder planning to engagement and deployment tracking
gives step-by-step visual guide to the entire process – 6 critical success factors, next steps, process and on-demand learning
includes pre-populated fields and templates that simplify and jump you ahead in the entire process

Suite of planning, assessment & tracking tools that includes:

Access to 9 powerful and intuitive planning, diagnostic and tracking tools
Automated survey and data gathering capability
600,000 data points to allow you to benchmark your progress both inside and outside of your organisation

In-context learning right when you need it providing:

Expert tips and bite sized video coaching delivered inside the planner and in context
4 on demand, role based learning modules specifically for change agents, executives, managers and individuals
The ability to quickly onboard new team members

Powerful data analysis capabilities enables you to gather, analyse and share data with key stakeholders and:

Assess and report on trends and the bigger picture
Get the insight you need to get ahead of change risks and mitigate them
Segment and analyse your data across functions, divisions and geographies and present your results with impact using our powerful reporting and data presentation capabilities

More in next weeks blog when we take a detailed look at the planning capabilities inside Roadmap Pro.
Find out more
If you want to know more about Roadmap Pro you can find out more on our website. Or download a brochure here.