Colin Gibbins is the Product Owner at KeyedIn Solutions and an avid advocate for Agile Portfolio Management practices. Colin has been working with PMO leaders for over 25 years architecting processes and developing solutions. He is presenting in partnership with Changefirst on December 3rd in the webcast The Adaptive PMO: Manage and Maintain Change Management for Long Term Success.
One of the most pressing issues organizations face today is the need to deliver change and for their people to quickly and effectively adapt to it. That's certainly true when it comes to introducing project and portfolio management (PPM) solutions and also for many other types of change. At KeyedIn, we engage with PMOs who want to become agile and adaptive — a change that can require a fairly dramatic transformation to their existing ways of working as well as for their stakeholders.
The PMOs we assist are seeking new ways to enhance their critical role to bring even more value to their organization. They want an Agile transformation to help them speed up processes, centralize visibility, become better stewards of corporate resources and become a value centre with a focus on continuous improvement. When we meet with these PMO leaders to begin implementing an Agile PPM solution, the biggest challenge is not the technology itself. Rather, the real work lies in gaining cross-organizational buy-in and full user adoption to ensure the new solution delivers the desired benefits in a sustainable way.
This is where a solution leveraging the power of KeyedIn and Changefirst adds so much value.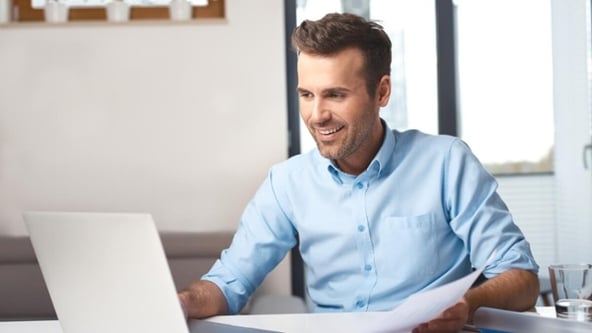 THE CHALLENGES OF CHANGE
Digital transformation initiatives, such as this, require a strategic change management focus to achieve the best possible business outcomes. One of the reasons we are so excited to partner with an organization like Changefirst is that their vision and purpose aligns with our own mission to ensure that our clients and their people receive the tools and support they need to be successfull.
Failure to address and plan for the impacts of people change can often result in dilution of benefits and even failure. That's not just an opinion pulled out of thin air, either. According to global consulting firm McKinsey, only 14 percent of digital transformation initiatives succeed. That's a staggering statistic when you consider that the modern business environment demands technology innovation in nearly every area of operation across all industries, and also considering the huge investments being made.
When faced with those odds, it's not surprising that many stakeholders balk at the idea of change, even when they know it's desperately required. Too often, this fear means that an organization will exist in a mediocre limbo of sorts and risk compromising their future. They know they need to innovate to grow, but the potential for failure holds them back and they may even perceive that the risk outweighs the reward.
WHY CHANGE INITIATIVES FAIL
In order to understand why organizations face such a high failure rate for change initiatives, let's take a brief look at some of the primary reasons why they fail:
Inability to communicate the value in the affected stakeholder's language
Poor planning, with experience from previous change attempts ignored
Lack of research and analysis of the impact on people
Insufficient involvement in shaping the operational changes
Insufficient training and preparation resulting in a partial implementation
The amount of change is too swift and overwhelming
Failure to create cross-organization enthusiasm and a lack of local leadership buy-in
Change is just accepted instead of embraced
LEVERAGING THE BENEFITS OF CHANGE MANAGEMENT
Transformation doesn't have to be a relentless, uphill battle. A structured approach to change management can dramatically improve adoption and increase an organization's chances of success by addressing the issues shown above. We've pulled together some of the best strategies from our experience in Agile PPM transformation and from Changefirst's People Centered Implementation approach to help you get started.
1. WHAT'S IN IT FOR ME?
If you're going to try to garner support for change, it's best to start with showing people how the short-term discomfort and sense of loss created will be out-weighed by the longer-term benefits for them. Will it make their jobs easier? Speed up certain tasks? Reduce time spent on tedious tasks? Changefirst refers to this as a "Shared Change Purpose" — creating the case for change that reaches everyone in the organization, from the seasoned CEO to the teams on the ground.
2. ENGAGE YOUR PEOPLE
People resist change when it feels forced upon them which is why Changefirst reports that Over 50% of employees 'accept' change rather than being committed to it and 48% feel overwhelmed by the amount of change. The results achieved by a committed team as opposed to an accepting team are what can separate true transformation from "change for change's sake".
If you engage your teams from day one, they'll feel less like they are being "done to" and more like they are part of the change and valued collaborators — because they are! When you include more people in the process, you gain valuable insights you might otherwise miss. It's better to find the flaws before they create conflict so there are fewer bumps in the road as your plan rolls out. While the ultimate outcome of the change may be predetermined, having some flex in your plan to tailor the "how" and adjust for the unexpected just makes sense.
3. CHOOSE YOU CHAMPIONS
A little enthusiasm goes a long way in fostering goodwill toward a new change initiative. You need to identify who your champions are going to be - the powerful influencers who can help you keep the transition moving forward. When times get tough, they'll be the people you can count on to boost morale and focus on the end results. When the process is going well, they'll keep the momentum going with accolades, appreciation and praise.
Don't overlook the importance of local "peer" influencers who lead through actions rather than status, so its good to get these local leaders on side early.
And finally, also think about the possible detractors and ensure they are involved too and become part of the solution rather than part of a future problem.
4. DON'T THINK YOU HAVE FINISHED TOO SOON
Just because everything appears to be going well that doesn't mean there isn't some underlying frustration or resentment that could suddenly derail the transition. It's important to check in regularly with the teams and ensure they really are managing to take on the change effectively.
We have found using Changefirst's Roadmappro surveys invaluable for this. Various standard surveys can easily be issued, completed and collated against industry benchmark information to identify risks and their mitigations. The surveys allow us to understand what people are really thinking throughout the implementation and to plan actions to address risks before they become issues later on.
IN SUMMARY
Delivering a sustainable, successful digital transformation requires the three "pillars" of People, Process and Tools to be addressed to ensure a successful outcome. For Digital PPM transformations, Changefirst delivers the People change aspects to supplement KeyedIn's PPM Process and Tool strengths.
By addressing the challenges of people change head-on and countering them with Changefirst's People Centered Implementation approach, knowledge and tools, the chances of delivering long term Strategic Change are significantly increased.
Need to learn more about the role of effective
Change Management in your PMO?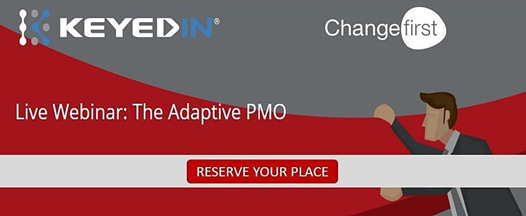 Join us for this webinar in partnership with KeyedIn- as Audra Proctor (CEO, Changefirst) and Colin Gibbons (Principal Product Expert, KeyedIn) discuss how to manage and maintain change by:
embracing an adaptive PMO that is an agent of change for the business

combining portfolio management with Change Management to cultivate organizational agility

leveraging Change Management as a strategic growth opportunity for the business
Secure your place on the KeyedIn website now.