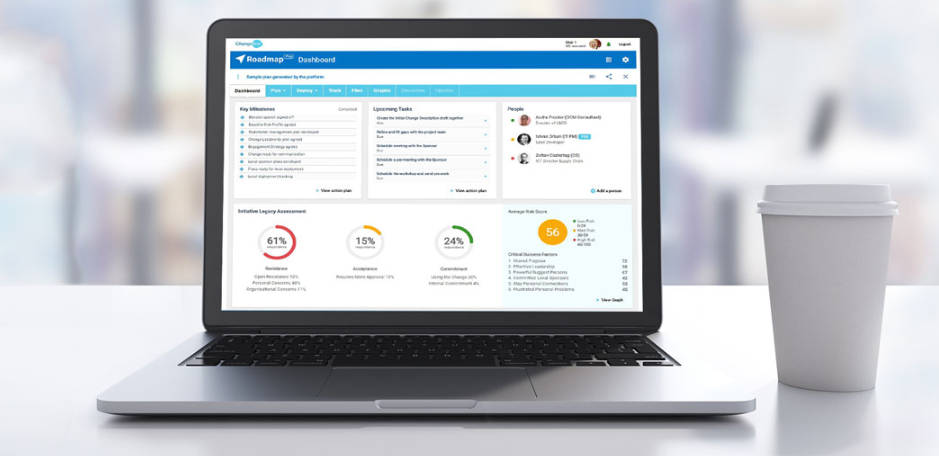 As an organization it is important for you to focus on full implementation, not just installation, which is at the heart of the ROI of effective change management. Here at Changefirst, we are seeing an increasing amount of organizations move towards agile ways of working where you will need more, not less change management for your business because of the iterative nature of the agile approach.
To meet this need we have developed a completely new and unique digital platform, called Roadmap Pro, for organizations that must deliver their change projects quickly, comprehensively and cost-effectively. Here are seven ways in which Roadmap Pro can help you achieve this:
Lower Costs
Highly competitive enterprise-wide pricing means organizations can drive up their change capabilities at a fraction of the cost of more traditional offline and workshop programs.
Rapid program support
Organizations can start working quickly, virtually and collaboratively on major change programs.
Consistent change planning
The step-by-step planner functionality in Roadmap Pro can guide users, often in different locations, quickly and easily through a standardized approach to building change plans.
Quick and effect change-skill building
Contextual on-demand learning and proven tips on specific topics provide support to inexperienced change managers, making learning more accessible and convenient without the disruption of lengthy workshops.
Powerful analytics to deliver critical data
Roadmap Pro provides just-in-time information, at the right time to people who need it and can act on it in an agile way to measure, track and mitigate program risks.
Easier and effective Collaboration
Roadmap Pro also features collaboration channels, creating direct connections and building engagement among people across the organization. Single click sharing means that geographically dispersed change teams can share, collaborate on and deliver programs more effectively and quickly.
Increased Productivity
The intuitive nature, the ability to keep data, plans and key deliverables in one place, the ease of sharing plans and learning from past implementations means that both teams and organizations are far more productive with Roadmap Pro.
Our work is entirely shaped by research and our learnings from over 600,000 data points across 75 clients in 45 countries for over 20+ years. Our PCI methodology underpins Roadmap Pro and has been rated by Forester as one of the top three methodologies globally.
Take a more Agile approach to Change Management in your organization with Roadmap Pro