As businesses and organisations gear up for what is likely to be another busy and challenging year in 2022, many of them are taking stock of their readiness for the journey ahead.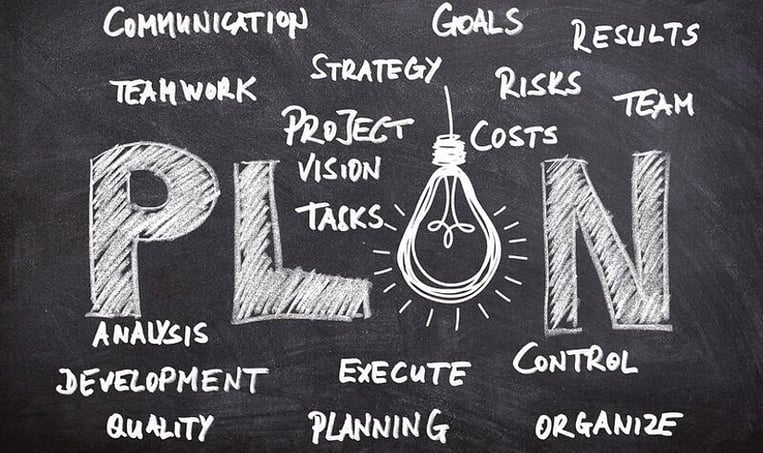 Without doubt, being Change ready is going to be key – with those that are able to continually adapt and respond to changes in their environment being best placed for success.
Here are 3 key pointers and things to consider as you work on your plan.
1. CMOs and PMOs need to accelerate time to value using real-time data
However, accelerating the time to value requires an aligned, data-driven approach. So, how do you get an understanding of the challenges and issues that your organisation is really facing? Which then enables you to quickly take the right type of actions to address them effectively?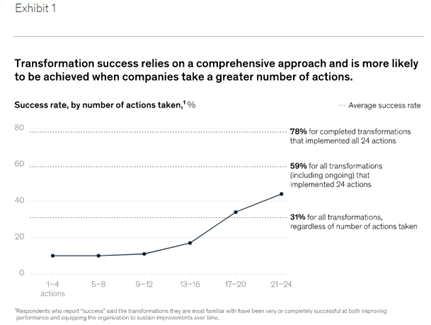 Recent research by McKinsey suggests that the answer lies not in following a specific set of actions but rather in the number of actions that are taken during the lifecycle of a transformation. Which is more about implementing a comprehensive set of actions to drive more successful change projects.
Increasingly leaders and their teams are being called to do so much more with less. So, what is critical in our own analysis is the ability to also discern what actions will deliver the biggest 'bang for your buck'.
Which is where a data driven approach to planning your Change Management activities becomes a critical capability.
2. Engaging lines of business to make 'change really stick'
Where transformations really stick and get sustained is in lines of business and among impacted teams. With the strong commitment of local leaders.
Our PCI® Change Management Methodology represents this essential symbiosis well, including:
creating ambitious aspirations and vision for transformation, defined and planned at an organisational level
the tailoring and adaptation that is needed to create individual and team connection at a local level, which makes change goals part of the local organisational DNA

In reality, both are needed to build commitment and sustain transformation value.
3. The pivotal role of informal leaders in transformation
The McKinsey research we highlighted above also makes a strong nod to the role which informal influencers play in leading successful transformation. We also see this as a key dimension in the way we observe change leadership at its most effective in your organisation.
How people respond to innovation and change is shaped substantially by the behaviour of leaders and leadership can manifest itself in a number of different ways.
More formal leadership:
is exercised through the management layers in the organisation as an extrapolation of the power of sponsorship
is also emphasized through the confidence in key areas of expertise to take on planning and deployment tasks, which

we extrapolate to the skills and processes of project managers and change agents
However, the impact and effectiveness of informal leaders should not be underestimated.
Here we are referring to leadership that comes from people's positioning in the organisation. Those informal power brokers and show-stopping stakeholders, who can:
advocate the benefits of a solution
connect and network across the organisation
and control access to people and information that are critical to transformational success
And, to be effective, your 2022 planning needs to take account of them as you build a strong influencing network for change delivery.
Are you ready for the challenges of 2021?
If you are, we wish you all the best as you embark on your New Years' change journey.
If not - and you would like a no-obligation discussion about how we could help you deliver change more effectively – then please contact us.