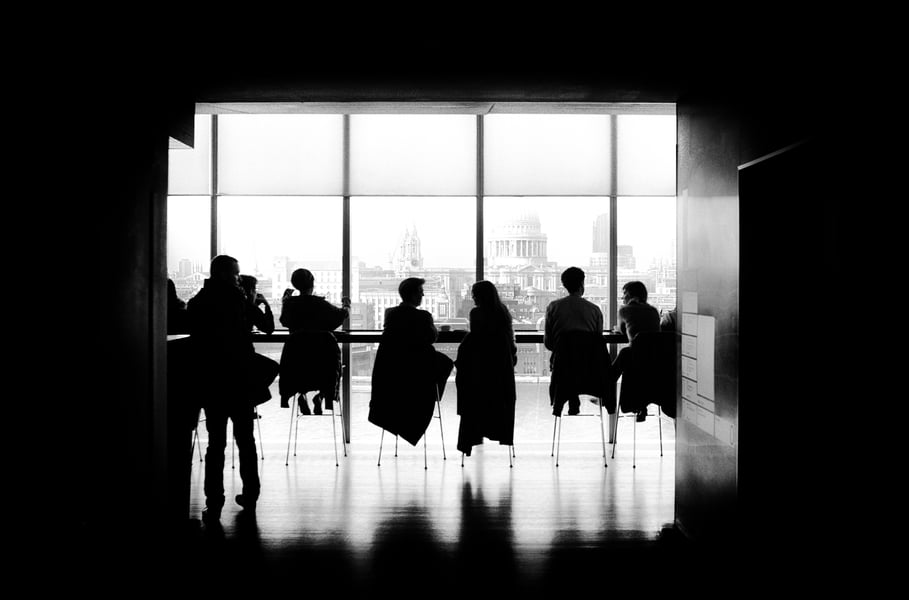 We recently published our second book - Enterprise Change Management (How to prepare your organization for continuous change) as as you might imagine we've been taking stock with our existing clients of their journey and progress towards Enterprise Change Management (ECM) together with the immediate areas of focus going forward.
Few would disagree with the need for something that will effectively close the gap between what an organization wants to achieve and what their current capabilities allow them to achieve. In 2008, IBM Global CEO Study "The enterprise of the future" identified an average 22 per cent gap between the amount of substantial change an organization expected and an organization's history of changing successfully in the past. Later in 2012, the Project Management Institute in its report on Organizational Agility stated that "over the last two or three years, only 45 per cent of organizations reported increased success with new initiatives". There may be a number of reasons for this gap, including the likelihood that organizations are pursuing inappropriate strategies. However the PMI conclusion is that effective change management is a core reason for these failures to execute and benefit from business critical strategies.
So the idea of ECM is beginning to evolve into a real interest, and imperative, for organizations, and with that sense of urgency comes many questions, especially for some of our newer and potential clients.
Q1: What is ECM? Is it a process, a framework or a specific tool?
A1: ECM is a belief that for an organisation to be agile and responsive, the whole enterprise needs to be made ready with skills, tools, process and infrastructure to deliver change at the volume, speed and accuracy required. ECM requires C-suite led effort to build and maintain this level of capacity for change. Leaders need to be doing more than simply sponsoring the training a small number of project or OD specialists in change management.
Q2: Isn't this just another name for Organizational Agility?
A2: There has been much written about agility in the last few year and in a number of our client there are agility-based initiatives in place. ECM is not the same as organizational agility, although we see effective change management as a fundamental foundation for agility. Building agility requires focus on many aspects of an organization's culture, technology, operations and processes, each of which would need to utilize effective change management to make the adjustments needed to achieve agility.
Q3: How can we deploy ECM practically and cost-effectively across our global organization?
A3: Much of our work over the years has been focused on workshops and coaching for executives and change agents as the key players with accountability and responsibility for executing change. Gradually we introduced workshops for managers and employees as well - we felt that all employees in an organization needed to have appropriate skills and access to relevant change tools. This has all been great because its given us a wealth of organizational best practice information. However, the current work environment is one where organizations and their employees believe that time is precious and the possibility of being overwhelmed by work is always just around the corner. In addition, there is more to building ECM than simply training people, even if we are able to use our international trainer network to provide large groups of people with the requisite skills in a "sheep-dipping" way. The key is to move capability building from being training-led to being a consistently used business application and this is where today's world of digital platforms, supported by a cadre of internal experts, can help organizations achieve ECM far more easily and cost-effectively that in the past. We've taken advantage of this capability to develop our Roadmap Pro platform, comprising:
change processes and tools that everyone can access as required
learning that is relevant to people's roles in the change process
virtual coaching support to help people embed new skills and processes
With just a few clicks, change and project managers can be working on any number of change projects simultaneously, all in one place. Senior change agents can work together with global peers, assigning specific change plans/sections to colleagues and then consolidating their feedback into a single plan. Users can increase their productivity, working quickly and smartly because of tools, status indicators and embedded workflows. Change and project managers can increase their credibility as a result of trustworthy data and processes at their fingertips. Users can benefit from just-in-time coaching, practical hints and tips from a virtual coach to help fast track their application - and all of this is to be found on the Roadmap Pro platform.
Incidentally, our learning has been that all this technology has to be complimented by processes that build leadership support and create a core team of internal experts (people who can consult, teach and coach). Nevertheless, have a strong basis for conversation, analysis, planning and engagement - on demand, via iPad/tablet and on the move - is a great accelerator and confidence builder - and this is why the e-change platform will be so important to our client organizations over the coming decade.
Q4: We are at such a low maturity level, ECM is a mammoth task for us. How do we get started and not overwhelm people? I'm not sure we have the cultural bandwidth for this?
A4: Deploying ECM is not easy but what we have developed is a stepped approach to development via our Change Management Maturity Model (C3M) - i.e. you build up to ECM. C3M comes in four levels (1. rudimentary, 2. tactical, 3. organizational, 4. enterprise) and allows an organization to determine the gap to being able to support ECM and build a manageable development roadmap based on the processes, leadership mindset, skills and infrastructure which needs to be in place. If you don't know where you are starting from, it can be difficult to know where you are going - this was the major challenge for one of our clients in the pharmaceutical industry that was facing a major transformational agenda following a divestiture. While there was some foundation change management training available to allow an individual contributors to step into a role where managing change was a responsibility, or prepare a director to lead change more effectively, there was still a substantial gap between this and what is required to create enterprise-level change agility to effect major business transformation. The specific request was for us to help inform their decisions about future change capability building by understanding not just what good ECM looks like, but also their current position in relation to that target.
Case Study:
A small group of key stakeholders were invited to complete our simple 5-point Likert scale assessment comprising 20 questions. The group results revealed a tactical level of change maturity with change management being applied inconsistently across change projects.
These assessment results were consistent with some of the anecdotal feedback we received about some change management processes being used alongside project management on key projects; and the use of external expertise to provide change management on major changes. The results also validated what we heard about a rudimentary level of change maturity in key geographies with a predominant use of project management and little or no change management.
We knew that this level of maturity would only work for organizations with a low to medium change load, where change was largely incremental, with a small number of initiatives focused on improving operational excellence. However the Change Maturity Assessment also presented the current state change load as high.
Moving from 2. tactical to 3. organizational maturity represented a significant step change for this organization, but we knew we could speed up ECM by leveraging their existing culture, which had a strong belief in using processes to improve productivity. The call to action was to ensure that the organization would adopt a common language and methodology (processes, skills, tools). However we felt that this was more achievable if change management methodology could be integrated into existing/established processes.
We made e-change available to the enterprise in a role-based fashion.
Internal change experts had full access to the platform, enabling them to work on a number of change projects simultaneously; gather people-centered data to help build change plans; work collaboratively with colleagues in other location, assigning specific plan section to local champions and consolidating their feedback into one master plan.
We provided regional and line managers with three modules of cloud-based digital learning, together with a subset of change tools and processes, allowing them to learn on-demand and be ready to support themselves and their teams as change was deployed in their local areas
We set ourselves 4 key goals over a three-year period, namely to
integrate change management methodology with project management and Six Sigma/DMAIC
build change management checkpoints into project measurement
provide role-based skills transfer and support to build internal expertise
ensure that change management was owned by specialist communities inside the organizations, such as HR/L&D. IT
Is your organization struggling to close the gap between the amount of change you need to deliver and your capabilities to do so? Request a demo of our Roadmap Pro platform to see how we can help you.