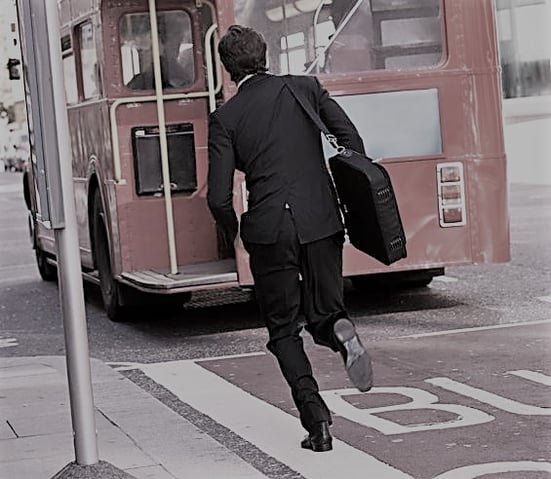 Being agile has become an imperative of the modern organization. More and more of our client organizations are using an agile framework to support their development and innovation. This adds a new challenge for change management capabilities as they themselves need to adapt to this new way of working.
We discussed incorporating change management into agile projects in a previous blog. As the demand for agility grows in organizations, so does the demand on change agents and change leaders to work with a new paradigm.
IT platforms are changing to meet agility demands
Agile is prevalent in IT development. While it is not exclusive to the IT projects anymore, it is certainly the driving force behind changing how changes are managed in the organization. With the pressing need to be first into the market with technology enabled changes, IT development accounts for a substantial proportion of organizational change. Even in signification business transformation programs, technology is the enabler.
The challenge we see time after time is HR and change experts struggling to adapt to the fast pace of agile when their own systems are not designed to support this way of working. Especially in HR, which is potentially the last bastion of people to people interaction, where teams are being asked to work in new, digitally enabled ways, and their core systems are not able to support them.
With legacy systems, up to 80% of IT spend is used for maintenance and fixes. And it can take 3 months or more for a patch or a bug fix to move through the lifecycle into production. The high demand for resources leaves little room for true innovation and transformation. This is a real problem that organizations across the globe are facing. Their legacy IT systems are simply not able to support the pace of changed required today.
This is where the power of SaaS (Software as a Service) comes in. From core financial, CRM and HRM systems to supporting auxiliary solutions, organizations are taking advantage of the flexibility, adaptability, economy, and security SaaS solutions provide them.
The double headed challenge for change management
Fast turnaround and adaptive core systems bring a double challenge for your change management capability:
Supporting organization change at the pace SaaS and other adaptive solutions can provide
This is where Agile comes in - using MVPs (Minimum Viable Product releases) and quick prototypes to build common understanding. MVPs provide a way to socialize the experience, and gather data to review and refine, during the sprints and iterations.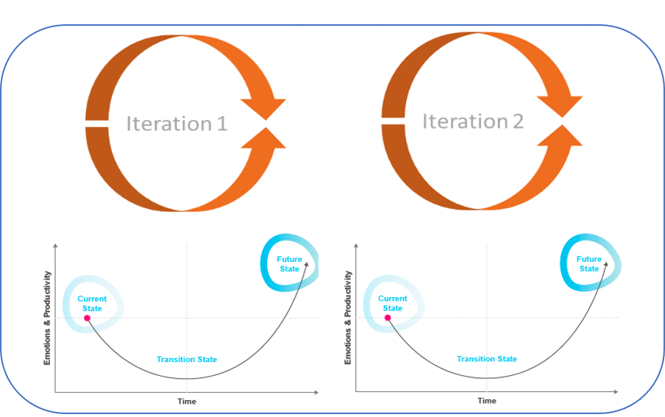 In the same way we must now think of innovation as iterative platforms (rather than systems, projects and programs), we need to think of change management as everyone's business. As we focus on the ultimate success measure: adoption rates, if the change solution is difficult and doesn't become popular quickly it's back to the drawing board!
Having a framework and supporting system that can keep up with this pace
The last thing we want are slow change management programs that miss the agile bus or hold it back. Those change management capabilities that are still working in the traditional/waterfall space will find themselves spending too much time upfront in analysis, and missing the opportunity to lead change through each iteration.
Change management needs to initiate, lead and engage by iteration. This requires the use of easily accessible strategies and tactics to:
Gain feedback from local recipients and the broader user community
Immediately pull this back into the project for improvements for the next iteration
Building the early adopter community
Understanding and managing resistance to change through each
Running your core change management capability on a legacy system that does not support an iterative approach to change management, or easily integrate into your other platforms (essential when thinking about getting the best use out of data), hinders your ability to drive through successful change at a fast pace, using the approach and actions that agile requires.
Agile brings new demands – are you keeping up?
The increased need for agile is changing the demands on your change management capability. There is an underlying expectation that the approach of change management will meet the needs of the new approach to development and innovation. Your change management framework needs to support:
The need for speed
Engagement through mobile apps
Embedded analytics – using rich data sources
Business Intelligence – using data for quick decision making
Video - providing global reach
Agile and Change Management: 3 key take-aways
Agile needs more change management, which needs to be easy to access, learn and use
Agile needs speed and scalability from change management, providing data and business intelligence for faster decisions, gained across geographically dispersed groups in a cost-effective manner
Change needs SaaS to integrate with today's systems
Get more agile in your change implementation with Roadmap Pro
I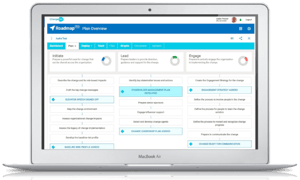 s your change management capability keeping up with the changes driven by an agile approach to development and innovation?
Roadmap Pro is our revolutionary change management tool. It is a cloud-based digital platform that is scalable and available 24/7, and so enables you to quickly, easily and comprehensively deploy and roll-out a consistent approach to change implementation - without the need for costly and time-consuming workshop training programs.