As a business – and a team - Changefirst has lived through some truly exceptional times that have tested us in terms of our personal resilience. In fact, we are fortunate enough to have seen off issues as challenging as the DotCom Crash and the financial global meltdown in 2008. Not to mention our fair share of recessions in between.
However, we are all agreed on one thing right now. Nothing has prepared us for what I can only describe as the "onslaught" of COVID-19 and Coronavirus which is impacting us in an unprecedented way. Across the board we are all being pushed out of our respective comfort zones and having to adapt – on an almost minute-by-minute – to the new normal that is being created for us by the biggest global health epidemic for over 100 years.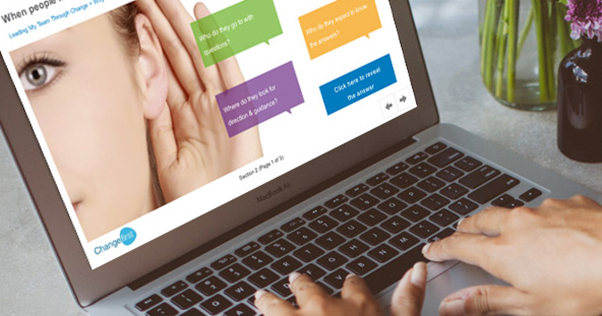 The importance of personal resilience right now
For me, change management has many societal applications. Of most immediate help to us, our families and our team, is the information we have on personal resilience. We know from observing and collecting responses - from literally thousands of people over the last 25 years - that the level of your personal resilience is a key indicator in how well you will survive and thrive in these disruptive times.
Resilience undoubtably enables us to deal more effectively with the uncertainty and chaos that currently surrounds us.
It's not just the level of your resilience that is important but the actual characteristics that create higher levels of resilience in you as a person. Part of what makes us resilient is probably innate, but people can clearly learn to be more resilient from experiences and education. In fact as HBR point out, the most resilient individuals and teams aren't the ones that don't fail, but rather the ones that fail, learn and thrive because of it. In a time of change it is the resilient people that tend to grasp the opportunity for learning and reinvention – and use the experience to propel them forward.
How to identify the characteristics of resilient people
Resilience is based on having a particular type of attitude when faced with challenges. These attitudes come from our early lives and experiences as we grow up. Some researchers maintain that that these attitudes are hardwired in our DNA. However, our own work with clients that validates the fact that people can adopt new ways of thinking that will alter experiences of change.
So, I thought I would share with you the seven components of personal resilience we have identified in people with higher levels of resilience as shown below.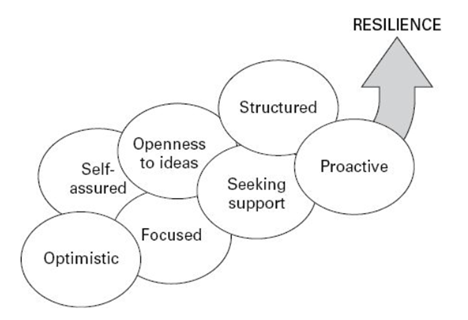 Not all seven are needed for all situations but the more flexible you are at using each of the seven the more likely you will be resilient. In fact, we have developed a profiling instrument called the Personal Adaptability Inventory (PAI) – shown below - which we use in coaching situations with clients.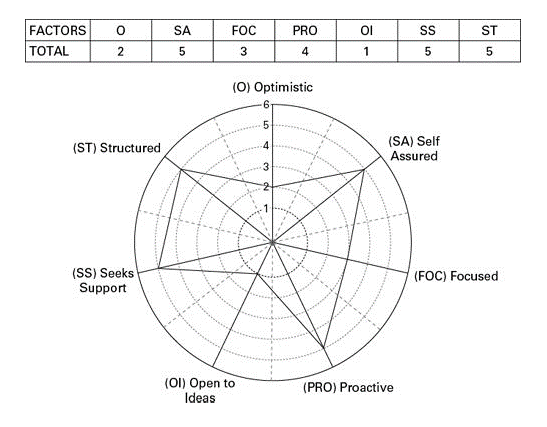 The PAI uses seven key characteristics – or components of personal resilience - as a code to help people understand their habits of nurture and how they draw on those characteristics under the kind of pressure that's typically introduced by significant organizational change.
These are the seven characteristics in more detail:
| | |
| --- | --- |
| Characteristic | Description |
| Optimistic | Resilient people believe that change will have a positive outcome. They are able to analyse an apparently dire situation in a way that gives them hope for the future and energy to engage with the change. |
| Self-assured | Resilient people have strong but realistic belief in their own capabilities. As a result they tend to control change rather than allow change to control them. This is an energy-giving characteristic for people during change. |
| Focused | Resilient people have the focus needed to be able to prioritize activities effectively and conserve their energy for critical changes. The result is that they can pursue key goals successfully, even in the face of adversity. |
| Open to ideas | Resilient people are able to keep an open mind to explore different tactics and strategies. They tend to find it energizing to be in an environment where alternative approaches and solutions needed to be generated to match a change situation. |
| Seeks support | Resilient people actively seek the support of others during times of change. They look for opportunities to involve the skills and experience of other people, as well as their own. This is an energy-saving characteristic for people during change. |
| Structured | Resilient people are able to analyse the situation and create an effective action plan with enough flexibility built in to cope with the shifting situation. |
| Proactive | Resilient people are prepared to step out in the unknown, taking the action necessary to make change happen. |
So how to use the PAI to analyse and impact your personal resilience? To make a start - find one of the characteristics that you think 'if I did more of that then I would be more effective' and focus on finding ways to do more of it in the coming weeks or months.