In our first blog in this Data series, we looked at 5 ways that data-driven change management can transform the effectiveness of your change initiatives.
One of the key areas we identified in this initial post was the importance of gathering and analysing legacy data to help you improve change performance over time. And we are going to take a closer look at this now – along with a look at assessing change impact on specific change initiatives.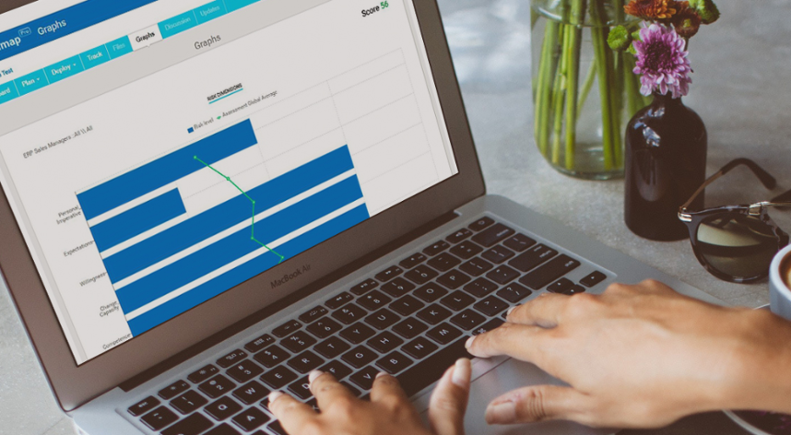 Typically, these are areas of consideration in the planning and initiation stage of your change projects and in our work with clients we consider two key areas at this stage:
Assessing change legacy: understanding the history of change implementation, people risks and enablers that might affect future changes in your organisation


Assessing change impact: identifying potential people impacts inherent in specific change solutions that need to be managed
Our clients are using data and insights from a number of integrated digital assessment tools to build a data-driven picture of change management on their business-critical projects, and in this post we want to share how the Initiative Legacy Assessment (ILA) and Change Impact Assessment (CIA) enable them to uncover the data they need for early planning and to inform crucial GO/NO-GO decisions.
Part 1 - The importance of Change Legacy
One of the key determinants of your future success in change is having a clear understanding of where your organisation has been in change terms.
By hooking into the history of change implementation, learning from both the good and bad experiences that people have had around change, gives you clear insights and a "rear mirror view" as a change leader as to the likely results from new change projects if old practices are repeated.
Why is that important? Well, as we know, the potential cost of failure is inordinately high including:
An inability to deliver the desired level of change results
The very high cost of failed change in financial terms
The negative impact a high level of disruption can have on the agility and competitiveness of your organisation
A real negative credibility issue for change leaders who are seen as perhaps having learnt the lessons of the past
The key is to learn from previous mistakes and issues as a means to continually improve our change implementation going forward and
So as we assess the legacy of change implementation, in addition to measuring the overall effectiveness of past implementations, we are particularly looking to:
Predict likely barriers and areas of resistance
Predict likely levels of acceptance and commitment

Get a head start with early people planning – and giving a jump start by adding these items to the project risk log
The role of the Initiative Legacy Assessment
In order to effectively assess change legacy, we use a tool called the Initiative Legacy Assessment - or ILA for short.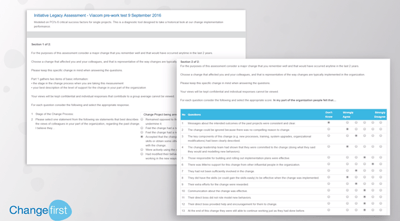 The ILA is a digital assessment tool – which is available on our digital change platform Roadmap Pro – that is specifically designed to:
Help predict likely levels of commitment and resistance
Measure the effectiveness of previous implementations
Predict likely barriers to successful implementation
Help facilitate corrective and enhancing action planning based on the results.
By surveying groups in the organisation who are undergoing change, it quickly helps you build up a data-led understanding of the key issues that have surfaced around previous change initiatives.
In practical terms it asks key questions around a total of 20 risk dimensions which are grouped into 6 categories and as follows:
| | |
| --- | --- |
| Category | Questions on risk dimensions are around |
| Shared Change Purpose | How well are change messages being understood? Are they clear and is there a compelling reason to change? Do people understand their role in the change? |
| Effective Change Leadership | Are commitment and role modelling evident from change leaders? Is there support from informal leaders in the organisation? |
| Powerful Engagement Processes | Are people being actively involved in the change and do they have the skills they need? Has the change been communicated effectively? |
| Committed Local Sponsors | How effectively are front-line managers building the commitment needed for the change? Are they taking a hands-on approach to help their teams engage with it? |
| Strong Personal Connection | Do front-line staff understand why they can't continue to work in current ways? Do they see it as achievable and acceptable? Can they see how it will make them successful and productive? |
| Sustained personal performance | Have addressed variables such as job security, impact on earnings, change in work relationships, job responsibility, and span of control. |
These questions are designed to help you reflect on how change has been implemented in the past – and use them as a guide to how well new change projects are likely to be received by different impacted groups in the future.
All of this data is then grouped into 6 impact categories – and gives a clear summary that can be tied back to your change planning (in our case this links directly back to our proven, globally recognised PCI change methodology which is built around 6 critical success factors).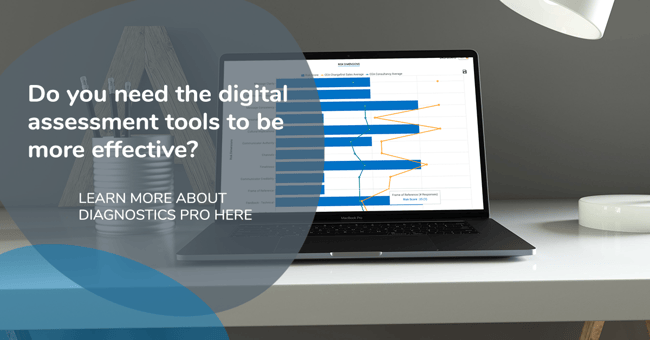 So what do the results of the ILA show us?
Response analysis & action plan – including suggested actions
The results of the ILA are available to review and query in our Roadmap Pro digital change platform.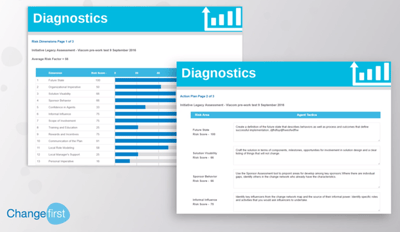 The risk dimensions around legacy issues - that were detailed in the previous section - are assessed using a scoring approach as follows
0 and 29 are low risk
30 and 59 are medium risk
60+ high risk
And a Risk Dimensions report is automatically generated which highlights high-risk dimensions, with suggested tactics and next actions designed to address these key risks. Tactics and actions that can be built into your change plans right away.
For example:
If the ILA identifies high risk around the Visibility of the solution – it provides specific help and advice around whom to craft the solution and better define key components, milestones, and opportunities for involvement in the solution. To help better engagement and understanding of the solution itself.
Comparison and benchmark data
And because the data on change legacy is being delivered on a digital platform you are then able to drill down into it and understand more about the detail on issues.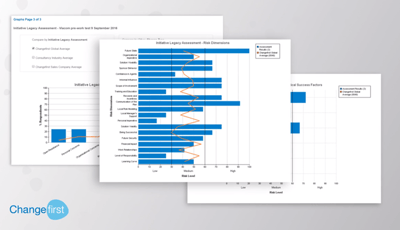 With the flexibility to compare data:
against global averages in the Changefirst database
across the 6 key category areas
against our extensive database of industries similar to your own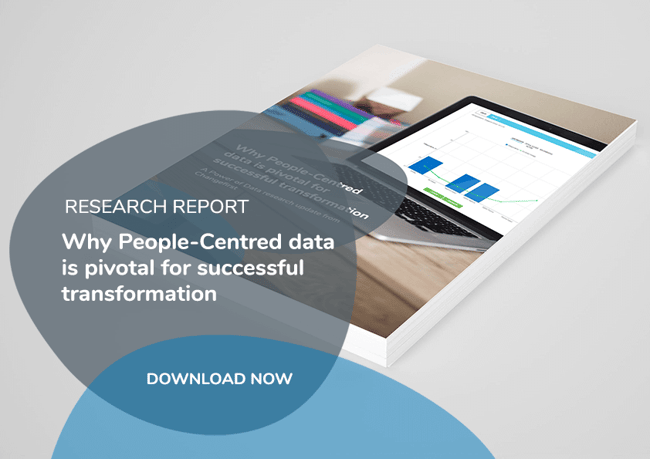 Part 2 – Assessing Change Impact with the Change Impact Assessment (CIA)
So, assessing change legacy is a key aspect of baselining your change. And a great starting point on your data-driven analysis in the initiation phase of your change plan.
But. It's also important to carry out an assessment of the likely impact of your change on key groups in the organisation alongside this.
Our clients do this by using our Change Impact Assessment (CIA) tool which:
Measures and compares

the likely disruption of a change project on people in different parts of the affected business

Assesses how difficult it could be

for people to adapt to or commit to change

Updates project risk logs

with a diagnosis of new barriers to successful implementation

Determines how the impacts and risks

inherent in the change inform implementation choices
Like the ILA, the CIA asks key questions around a total of 20 risk dimensions – tied specifically to your change initiative - which are grouped into 6 categories and as follows:
| | |
| --- | --- |
| Category | Questions on risk dimensions are around |
| Scope | Volume of change, impact on customers, timescales, complexity of the change itself |
| Infrastructure | Changes to process/workflow, technology impact, adequacy of existing reporting |
| Governance | Changes to leadership behaviour, adequacy of current success measures, strategic change of focus |
| Culture | Behaviour change, adequacy of current culture measures, people alignment with the change |
| Enablers | Changes to appraisal and objective setting, communication changes and methods, adjustment to rewards |
| Resources | Type/numbers of staff, core competencies and skills adjustment, financial implications |
So, what does the data from CIA tell us?
Similarly, to the ILA, it provides:
Response analysis & action plan – including suggested actions


With risk dimensions assessed on the same scale as the ILA.
However, the risk dimensions report is more specifically focussed on the risk associated with your specific project – again along with possible tactics.
For example:
If one of the high-risk areas is identified as Rewards then tactics are suggested around:
Developing the blueprint of intrinsic and extrinsic rewards that will be used to support and reinforce the change
Ensuring that rewards and reinforcement dovetail into the performance management system
Comparison and benchmark data
You are then able to drill down into the data in the CIA.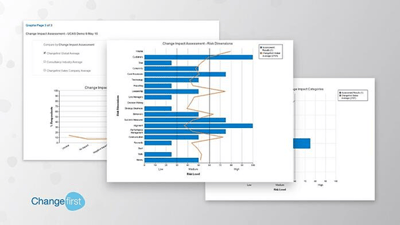 With the flexibility to compare data against global averages in the Changefirst database, across the 6 key categories, and in our extensive database of industries similar to your own.
How to use the data from these assessments effectively
By bringing the data from these assessments together, you can inform your implementation choices and they can form an important part of your baseline risk assessment.
Using impact and risk data to inform planning choices

Helping to decide whether it's safe to proceed with the change
Our experience is that "go/no-go" decisions are made based on technical aspects of the project and very often not people impacts. In our experience, leaders are often accused of operating as though there is unlimited energy and goodwill in the organisation to accommodate change.
By bringing the depth of data that you have from your change legacy and change impact assessment to bear – you are able to work effectively with these leaders to ensure that people are not overwhelmed by the impact of cumulative changes. And to help them to the realisation that sometimes saying no during organisational change can actually make things happen.
That concludes our look at how to use data to assess legacy risk and change impact but if you would like to talk to us about how you can more effectively assess this inside your organisation, please feel free to contact us for a no-obligation discussion.
Put data at the heart of your change management approach

If ensuring data is at the heart of everything you do in your change management initiatives you might want to take a closer look at our Roadmap Pro digital platform.

Visit our website to learn more and schedule a no-obligation demo