By Audra Proctor, Head of Learning & Development, Changefirst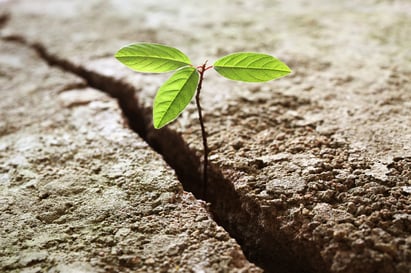 Major change in organisations can be an exciting time of re-invention and learning, but the sheer volume of change is dampening that excitement and making us want to retreat rather than step out and take action to make change happen.
Outsourcing, mergers, acquisitions, restructuring, cost efficiencies, downsizing, competitive pressures, new IT systems, each one considered alone can cause significant disruption to our performance. But considered together, which is now our reality, they pose a significant threat to successful implementation of business critical changes. Our data, which is based on nearly 20 years of research and a total of 26,000 respondents, shows that almost half of people contributing felt that their organisation was overloaded by change to the extent that they lacked the focus to get business critical changes implemented.
So where does resilience fit in?
The real value of resilience for organisations lies in the ability to successfully implement business imperatives. Most change projects fail because the people involved are just not resilient enough to deal with the perpetual change loading. Resilience is the quality that enables one person to bounce back, actually respond well and thrive with multiple challenges, while a colleague, with apparently similar skills and experience, struggles to cope. So, an organisation with resilient people, as well as the right systems and processes, is more agile and proactive.
What makes people more resilient and how can we develop our own personal resilience?
There are 7 characteristics of resilient people; optimistic, self-assured, focused, open to ideas, seeks support, structured and proactive. We tend to draw on some or all of these in our normal working lives, but resilient people are able to draw on these characteristics at the right time and have an instinctive understanding of when, for example, being proactive is more important than seeking support.
Optimistic

– resilient people believe that change will have a positive outlook. They are able to analyse even an apparently dire situation in a way that gives them hope for the future.

Self-assured

– resilient people have a strong but realistic belief in their own capabilities. As a result they tend to control change, rather than the change controlling them.

Focused

– resilient people have the focus needed to be able to prioritise activities effectively. They can pursue goals successfully, even in the face of adversity

Open to idea

s – resilient people have an open mind to different tactics and strategies. They tend to be good at generating alternative approaches and solutions to match the changing situation.

Seek support

– resilient people actively seek the support of others during times of change. They look for opportunities to involve the skills and experience of other people as well as their own.

Structured

– resilient people are able to analyse the situation and create an effective plan to implement change – with enough flexibility built in to cope with the shifting situation.

Proactive

– resilient people are prepared to step out into the 'unknown', and take the action necessary to make change
Of course part of this is attributed to our nature and nurture, but we can learn to develop and improve this starting level of personal resilience.

How resilient are you?
Our proprietary Personal Adaptability Inventory (PAI) allows you to first analyse an individual's starting level of resilience in terms of the seven characteristics, to identify areas of "over-use" and "under-use", and then to develop a plan for tangible, lasting improvements to personal resilience. The PAI can be accessed through the practical e-learning module 'Thriving through Change' which is part of our innovative new Change Management SaaS application – Roadmap Pro.