At Changefirst gathering and assessing data around change is hard-coded into our DNA.
As part of our approach, we are continually reviewing key trends in the Changefirst database which - with contributions from more than 55,000 people and almost 900,000 data points - provides analysis in real-time.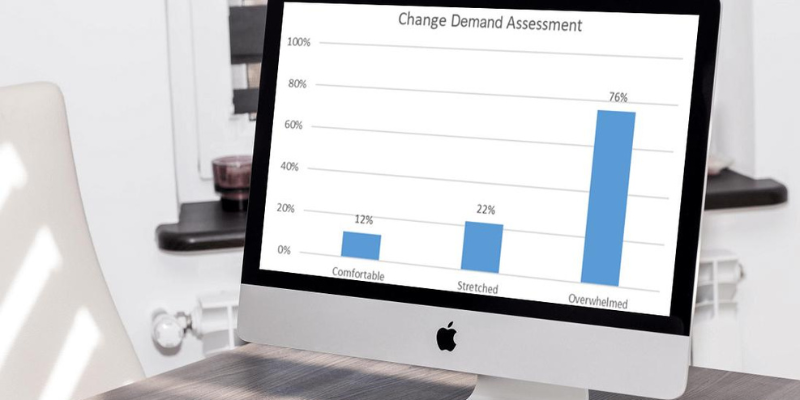 In our most recent Change Management research data, which is available in our Why People-Centred Data Is Pivotal for Successful Transformation research update, we got the strongest indication yet that people continue to be overwhelmed by the sheer cumulative demand and speed of change in their organisations. With more than 70% of people (76%) reporting that their organisation is overwhelmed by too much change. And lack the focus and bandwidth to get business-critical projects delivered in a sustainable way.
This figure has jumped up an incredible 28% since 2019.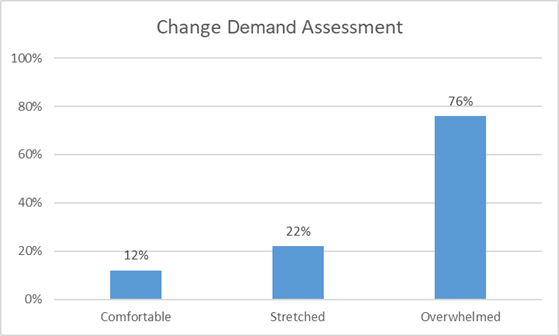 Source: Changefirst Change Demand Assessment 2022. (2,137 responses from 19 organisations)
And it's perhaps not surprising that the monthly figures for March 2021 saw the number jump up to 98% - no doubt impacted by the pandemic and resulting disruption.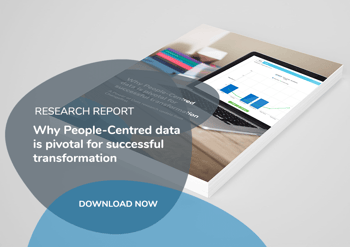 Some practical recommendations here
These are truly startling figures. So what can Change Leaders do to address the issue? We think there are 3 practical considerations as follows:
It's important that leaders understand how employees perceive and experience the demand for change. Sponsors tend to see the demand for change as the few key strategic themes announced. For employees, themes become portfolios, portfolios become programmes and programmes become projects. All of this is in addition to local improvement projects and their natural rhythm of work. This difference is key to understanding and addressing change loading demand across an organisation.
Leaders who want their organisations to transform successfully, need to be able to actively manage the number and sequencing of changes, in view of the combined load throughout the organisation. Rather than simply focusing on the changes they personally initiate.

Executives also need to understand the organisation's change maturity - and the capabilities and capacity of the workforce to assimilate the change load. As well as be ready to reduce the number of changes and/or increase change capacity quickly to succeed.
For more on this and other key aspects of our most recent research, download a copy of our Why People-Centred Data Is Pivotal for Successful Transformation research update.
Take a closer look at our Digital toolkit

The data above was generated using our Change Demand Assessment (CDA) tool which is used to:

estimate the cumulative level of impact from all changes
measure the status of each of the Demand Drivers
diagnose barriers to change implementation caused by overload
facilitate action planning for balancing demand with available capacity

Interested? Learn more about our digital Change Management toolkit on our website.