An excellent recent article from McKinsey on how digital solutions pose new and unique challenges to the implementation of major change efforts set me thinking about the opportunity around the use of digital tools in change. And more specifically how quick and easy it is to introduce a digital change solution to your change implementation efforts.
In our opinion, the advent of digital change tools comes at just the right time. Organisations that once enjoyed the luxury of time to test - and roll out - new initiatives must now deliver tens or possibly even hundreds of (often) competing initiatives in a more compressed period. All within a lower cost base. And leaders must simultaneously deliver rapid results and sustainable growth in an increasingly competitive environment.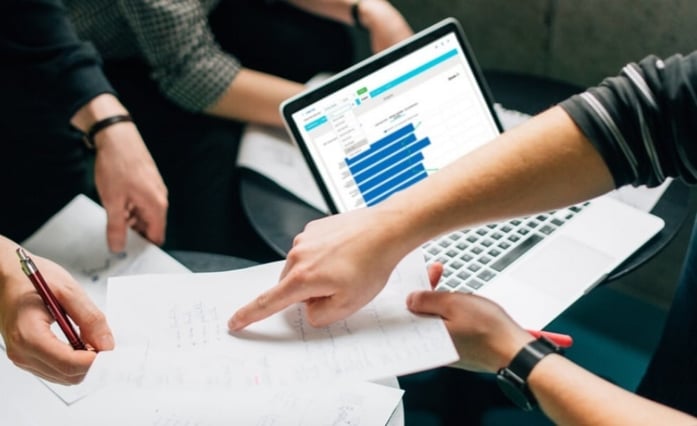 The pressure to adapt and change is immense, and the feedback from leaders is that;
their managers need quicker access to skills and tools to engage their teams more effectively and drive new priorities locally,
their people need access to self-service applications to make them more productive, flexible, and collaborative
How to get started with digital in Change
Mastering the art of changing quickly and effectively is now a critical factor in gaining competitive advantage. But, while organisations have been deeply focused on using digital to improve their customer-facing businesses – smart organisations are realising that, to drive up productivity and build organizational agility to deliver change, they must strategically invest in workplace technologies to make it happen – the application of digital tools to promote and accelerate internal change has received far less attention.
We've found that those organisations who are building this value are committing to new models that combine digital technologies and key capabilities in an integrated, well-sequenced way. The key challenge with building organizational agility is moving capability building from being training-led (often away from work), to be a clear set of change steps, processes, and tools that people feel supported to pick-up and apply straight away to their real business issues.
The capabilities that companies need most have evolved, and methods of building those skills need to catch up quickly. And bearing in mind cost is an important factor, digital platforms supported by a cadre of internal experts can make deploying key capabilities, far and wide, more affordable. And if correctly applied, can accelerate and amplify productivity, and it's easier than you think to get started. So how do you do that?
Choose the right platform
Of course, the platform should not drive the solution. Rather, with a clear view of the new behaviours that need to be reinforced, you need to ensure you are choosing the right platform to support that specific purpose. Here are three things to look out for …
Just-in time information - good digital platforms and tools provide just-in-time information – offering the right information at the time people actually need it and can act on it. Just-in-time information – be it learning, data, feedback, etc. – gives people the opportunity to make quick adjustments at the point of need and witness the effects of these adjustments on performance
Application and productivity - good digital platforms facilitate both application and productivity – personalizing the experience to the user's needs, then unlike a training workshop where groups follow a set process, individuals can focus on specific and relevant learning, tasks and processes related to their own priorities, to increase accountability, and reduce delays
Collaboration channels - good digital platforms feature collaboration channels – creating direct connections and building engagement among people across the organization. With communities involved in change efforts often physically distant from one another, making it easy for colleagues to be involved, share and see all the information related to a task, and demonstrate progress of that task, shortens the time it takes to get things done, and significantly improves productivity
Get the onboarding right
This makes it easy to continue once started. Onboarding should reflect where you're starting from, both in terms of the specific capability being built and digital maturity of the organisation. Digital platforms will often include some form of technical (set-up) and application (content overview) support. However, building key capabilities such as change management, in a way that's sustainable across an organisation, requires other pieces of infrastructure to be successful. Here are three things to consider …
Build into your core processes - the new capability needs to be built into core business processes to help it be part of everyday work and the new normal. In the case of change capability, support to integrate internally with project controls, process improvement cycles and business reviews should be added to the onboarding process
Get the sponsorship you need - lack of sponsorship is the number one reason why organisational capability building is not sustained. With digital nothing has changed here - services to build need strong executive and line manager sponsorship for new capability should also be added to the onboarding process
Coach and support your teams - the success of a new platform improves with reinforcement and ongoing assistance. Digital platforms will come fully loaded with ongoing email support, but we sometimes need to be coaching people who still need help to apply new skills and processes they now have access to just-in-time, which should be built into the onboarding process. We also need to be mindful about getting started with the right team – to build a cadre of super users and advocates to encourage others
Deciding on the right onboarding mix is crucial, and the illustration below shows how a simple analysis of change management and digital maturity can help guide your decision.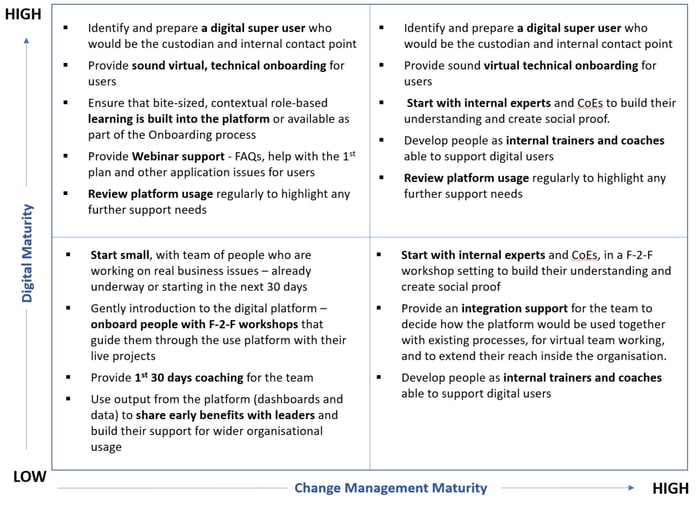 It's clear from our analysis that the sheer volume and pace of change inside organizations mean that you need to find new, more cost-effective, and scalable ways to roll out your change projects and plans. While the adoption of digital inside the business itself is throwing up challenges, the potential for digital solutions to more effectively deliver change is a significant opportunity for change leaders and practitioners.
We hope our digital and change maturity matrix helps you get started on the process!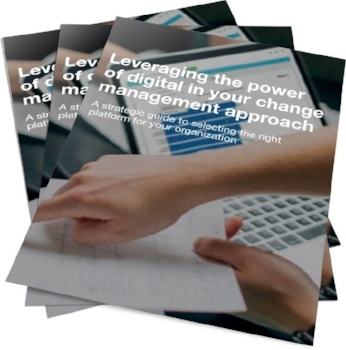 And we have also prepared a guide to selecting the right digital change platform which is available here.
Introducing Roadmap Pro - our digital change management platform

Finding and selecting a digital tool can give you the right balance of productivity, collaboration, and visibility of data to build the level of change capability you need to deliver on your project agenda. Our innovative digital change management tool - Roadmap Pro - is built to do just that.