Mastering the art of changing quickly and effectively is now a critical factor in gaining competitive advantage and digital transformation is at the forefront of the revolution that is taking in businesses across the sectoral spectrum.
As Forrester pointed out in their report "Change Management is a New Differentiator in the Digital Era" (2016 – Forrester Research):
"Companies will compete on their ability to change their business models. As digital technologies disrupt nearly every industry the ability to adapt to changing channels, product portfolios, revenue streams, and other business model elements will be a company's primary way to sustain growth. Change management will be an embedded part of adapting to new business models."
But, while organisations have been deeply focused on digital transformation of their customer-facing businesses – smart organisations are realising that, to drive up productivity and take full advantage of market opportunities, they must strategically invest in workplace technologies to make it happen – the application of digital tools to promote and accelerate internal change has received far less attention.
A digital change management solution is a single, SaaS based application which provides all the learning, planning and analytics capability you need to successfully plan and roll-out your change initiatives in a standard, consistent and cost-effective way – 24/7/365.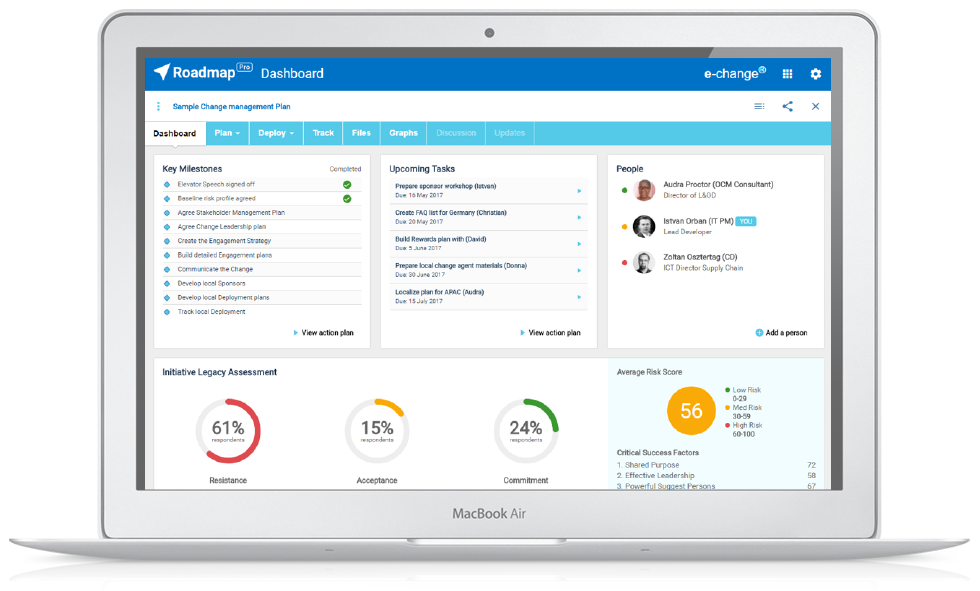 Selecting the right platform for your needs
So, assuming you have identified the benefits of - and need for - a digital change solution, how do you ensure you find one that makes your work simpler, collaborative and more effective? To help with the process, we have created a simple 10-point guide to help guide your buying decision.
However, before we get to the detail on the guide there are some mandatories that your digital change solution needs to hurdle before they are even worth looking at in more detail.
Any platform worth its salt will be a scalable, data-driven and cost-effective cloud-based solution, and it will always include:
A step-by-step planner – a visually driven guide to the entire change process which fuels the productivity in your team by leading them through key steps in a structured and consistent way
Easy-to-use planning templates - designed to shorten time to implementation on your change projects, proving proven approaches and tips
On-demand learning – personalised and contextual learning delivered as part of the step-by-step planning process and just as the user needs it at key stages in their project
Ability to report on progress – a dashboard driven approach to monitoring and reporting on key project risks with key project stakeholders
Taking these features as 'givens', what are the 10 most important questions to ask when considering licensing a platform?
Key questions

What to look for

Is it secure?

ISO 27001, SSP Authentication and SSL Certification as a starting point
Insist on the highest levels of security and data privacy

Is the platform intuitive and easy to learn?

Simple to follow, consistent approach
Menu driven approach to build your plan

Does it have annual renewable licensing, so you are not locked in to long-term commitments?

SaaS based pricing
Annual renewals

Does it give you plans that are easy to build using pre-populated actions?

Proven process for change
Step-by-step planner
Prepopulated actions and templates
Detailed process instructions

Can you download the outputs easily and quickly?

PDF export and download of your plan
Export data to excel
Export graphs for use in presentations
Create and store change plans and project files

Does it have integrated diagnostics to track and mitigate change risks?

Dashboard driven approach to showing data
Suite of integrated, proven diagnostic and risk assessment tools
Risk mitigation insights and advice
Ability to respond to assessments in multiple languages

Is there built-in video learning - so people can get up to speed quickly?

Well documented learning plan
Delivered Just in Time when the user needs it

Can the platform be configured to meet your needs?

Easy-to-change labelling
Editable fields

Does the platform allow you to collaborate with other users easily?

Single click sharing of plans across teams

Is there industry-standard On-Boarding?
We are currently working on a new buyer guide to buying a digital change solution – if you would like to receive a copy on publication please leave your details and we will send it when available.


Introducing Roadmap Pro
If your organization is in the midst of its own digital transformation and looking to select a digital change solution you may be interested in Roadmap Pro, our SaaS based change management toolkit.
Based on our proven approach it makes it quicker and easier for people to 'learn-while-doing' and rapidly builds your organizations agility to deliver change - in a highly cost effective and scalable way.